LIVO PENTA C SAE-40, API-SC/CC .
LIVO LUBRICANTS-Common Terms: Base Number :  The amount of base needed to neutralize all or part of the lubricants alkalinity, expressed as KOH equivalents.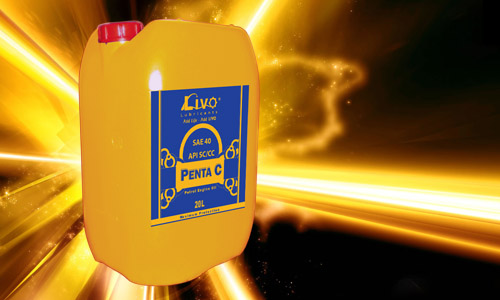 LIVO PENTA C SAE-40, API-SC/CC Engine Oil is formulated with the finest base stocks and top quality additives to combat oxidation and corrosion. It is designed to meet the needs of vehicles and equipments operating under moderate conditions of loads and temperature. It exceeds the API service classification SC/CC. LIVO PENTA C SAE 40 is the appropriate choice when the manufacturer has no special requirement.

Benefits and Features.
Increase Engine life.
Excellent anti-rust, anti-wear, and anti-corrosion.
Excellent anti-foaming, anti-scuffing and anti-oxidant properties.
High Viscosity Index.
Superior protection over wide range of temperature.
High level of dispersancy and detergency.
Compatible with other conventional and synthetic Motor Oils.