LIVO DECA C SAE 50, API-CC/SC.
LIVO LUBRICANTS-Common Terms: Oxidation :  A chemical reaction that increase the viscosity and deposit formation when oxygen attacks petroleum fluids. It is accelerated by heat, light, presence of water and by other contaminants.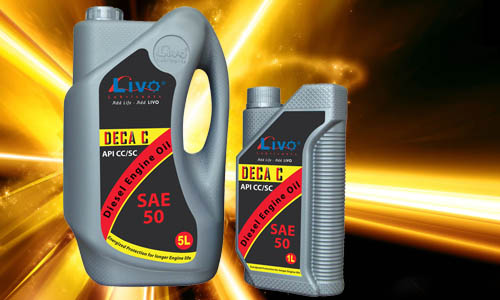 LIVO DECA C SAE 50, API-CC/SC is Monograde Diesel Engine Oil. It is formulated with special additives and premium quality base stocks to enhance performance of diesel engines operating under moderate conditions.

Benefits and Features.
High viscosity index.
Good level of detergency and dispersancy.
Excellent anti-rust, anti-corrosion, and anti-wear properties.
Minimum ash content.
Enhanced anti-oxidant and anti-foaming properties.
High level of stability and consistency during operation.