LIVO DECA XTRA SAE 20W50, API CF-4/SH.
LIVO LUBRICANTS-Common Terms: Viscosity Index :  Relationship of viscosity to the temperature of a fluid determined at 40 and 100 °C. Fluids with high viscosity index tend to display less change in viscosity with temperature changes than fluids with low viscosity index.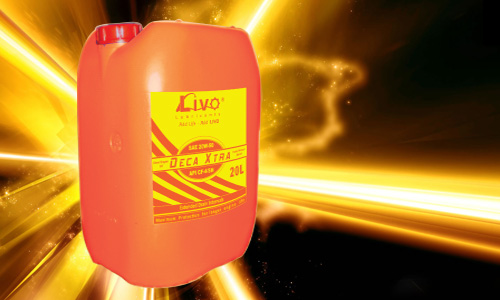 LIVO DECA XTRA is high performance multi-grade engine oil recommended for all turbocharged or normally aspirated diesel engines. It is formulated with high quality base stocks and superior additive packages to provide ultimate protection in wide varieties of the most severe applications.

Benefits and Features.
Extends engine life and drain intervals.
Very high Viscosity Index.
Exceptional detergency and dispersnacy levels.
Excellent anti-wear, anti-rust, anti-foaming and anti-corrosion properties.
High performance oxidation and viscosity stability during operation.